I've been getting a lot of people asking me when Ruin Me comes out. Short answer: probably 2018.
There's been a some misconception since our kickstarter back in June that we were finished filming and needed funding for post production. I get that. After all, the trailer looks so damn perfect. But that wasn't the case. Some of it was filmed, but much of it wasn't. Fortunately due to the success of the campaign (and Julian finally moving permanently to the US) we've gained a lot of momentum. To this date, I can say were about 90% done with shooting and will be transitioning into post production in the next couple months.
We just spent a week in Vegas, where we shot the last of the bigger scenes. I've been at least 50 times to this god-awful desert but this was the first time I hopped on a helicopter tour to the grand canyon. Julian, with his boner for everything all-american had his camera by his side the whole time.
We celebrated by hosting a big fetish party on Thursday night (sponsored by kinkbomb) We opted to avoid the Vegas club scene and rented out a big sleazy house owned by a couple of lifestyle swingers. It was fully equipped with all things debaucherous; sex swings, BDSM furniture, stripper pole, and my personal favorite, "the fucking Harley" which was a Sybian vibrating dildo attached to a motorcycle.
After a bit of mood lighting the house could almost pass as classy. The turn out was great. Roughly 60 people total. All the women adorned fancy fetish wear and masks, and most of the men were in collars. There was dancing, booze, girl on girl wrestling, and naked Momo; our Sushi girl. What a babe.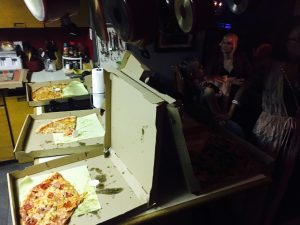 Oh, and there was pizza. I ordered pizza. I thought this would be the most civilized and normal part of the night. But naturally with this crowd all I saw were women chewing it up and spitting it back into some dudes mouth.
Anyway, I'm home now. I'll be home for a while. Find me on cam. Buy my used socks. Whatever you weirdos are into. I'll be extra greedy the next coming months.