This month is swamped. But I wanted to take the time to check into my terribly neglected blog (which I hope to pay more attention to this year) and say a little something about something.
This Tuesday I leave for Vegas for AEE. It'll be my 7th year in a row going. I can't believe how quickly these years have added up and how much has changed since then. My first year attending was the year I worked as a sales clerk at a local porno store. Portland being the smutty and liberal city that it is, this was an especially seedy porno store equipped with back room "viewing booths" that contained the occasional voyeur window and glory holes. It was a hot spot for gay cruisers, especially the kind adorning wedding rings, and homeless street walkers looking for a dry place to do business. I made minimum wage plus commission and was selling my used panties on ebanned on the side. This was before I had a website or took calls on niteflirt.
During my time working there I developed fan girl admiration for certain porn stars and convinced my rather wild best friend at the time to fly out with me to AVN so we could meet them. Equipped with starry eyes and fake IDs, we did so, quite successfully, and even made a few friendships within the industry that eventually disintegrated over the years for one reason or another. It was an especially exciting and novel experience for me at that time and I made a point to go each year to find some kind of trouble to get into.
Here's a little trip down memory lane from my first year: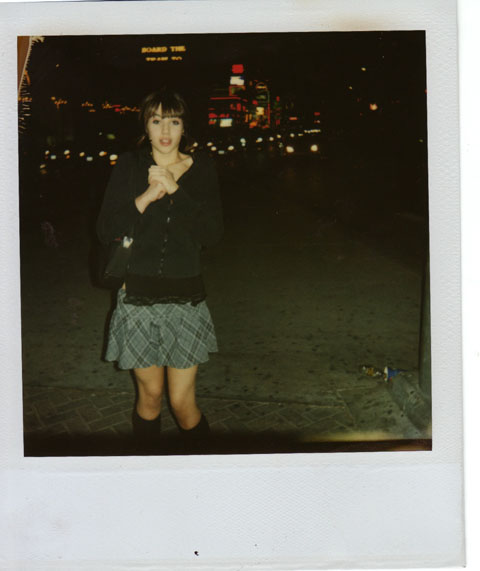 Out on the strip at night. Cold as shit.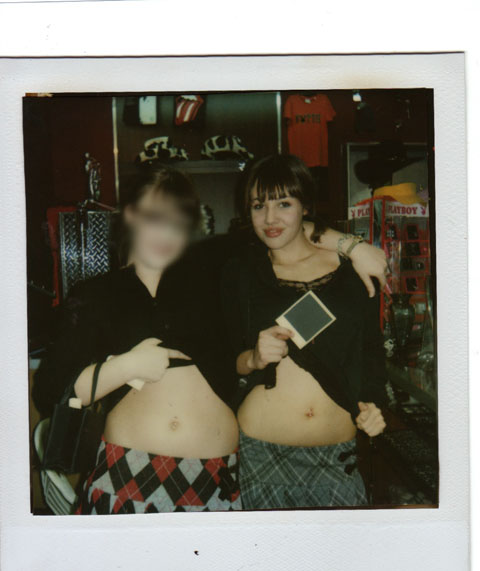 Getting my belly button pierced with my giiiiirlfriend. Major BFF bonding time. (They got so fucking infected.)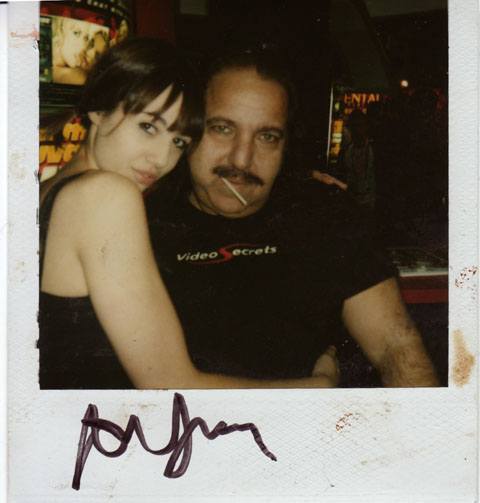 Meeting Ron Jeremy. This was right before he stuck his tongue down my throat and mouth raped me. No lie. Look at my face in this picture: pure innocence. I have never been the same since.
Fast forward to 2013, I'm more than just a little stressed out scheduling trade shoots with nearly a dozen dommes and paid shoots with small handful of porno girls and models. I've been spending my days approaching trying to write up over 50 clip descriptions. This trip has definitely turned into more work that play, but I wouldn't have it any other way. At this point I've been to Vegas more times than I can count and all in all it's not really my kind of city. But when I get a lot of work done, especially working with so many like minded people, I have a good time. VIP parties with kinkbomb don't hurt either. Those guys really know how to take girl out.
A couple pictures from last year: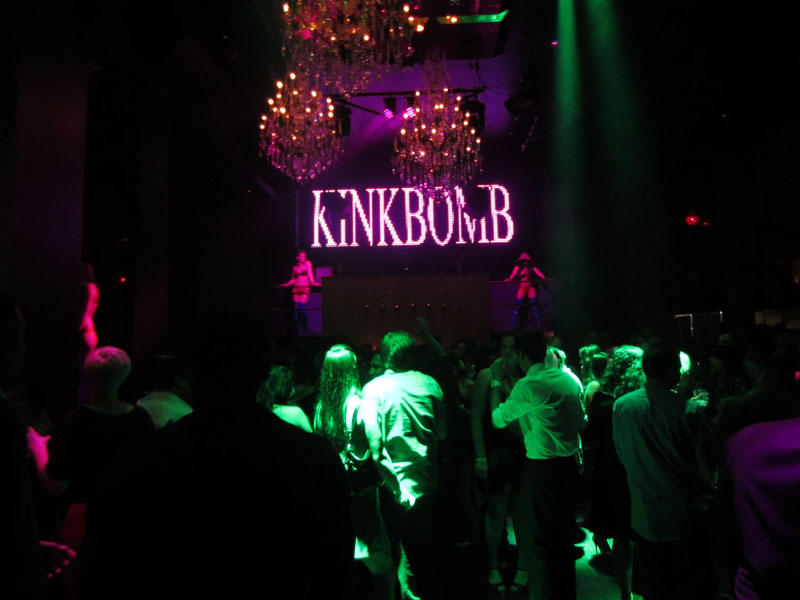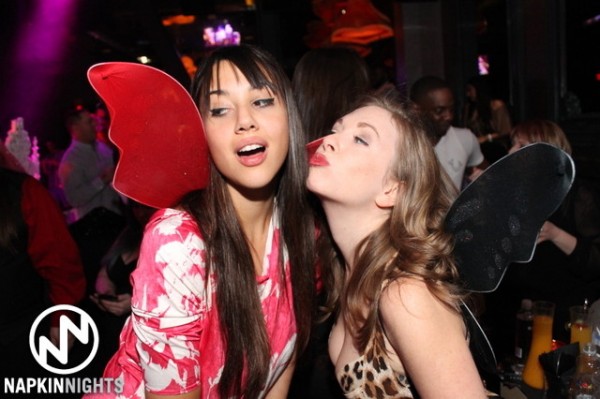 This year should be great, I'll be rooming with Mistress T, which is always a pleasure, and at least 2 film slaves have booked their tickets and will be at our beck and call all weekend. There's always room for more if anyone wants to reply to the casting call (below), but obviously at this point you better be pretty damn useful if you want to be considered.
I should take the time to mention, that if you want any custom clips with myself and Lyne, Rene, Bratty Bunny, Mistress T, Alexandra Snow, Sarah D, Meggerz, Evilyn Milano, Cheynne Jewel, Lindsey Leigh, Kayla Danger, Sammie Spades, or Selena, now would be the time to submit your request: contact@cearalynch.com.
(Do not request a clip involving more than just one girl, other than me, unless you have an absurd amount of money to spend.)
On another note entirely; I don't know if I've been less dismissive of subs lately, or if I've just been lucky, but there have been a few guys that have crossed paths lately that I've actually enjoyed…talking….to. Weird right? Normally if I want to have an enjoyable conversation with someone the last person I want to talk to is a dude with a hard on and the deluded mind to think that I'm anything other than human. Of course I realize I bring that treatment on myself in the ways the I choose to represent myself online, and I certainly didn't start all this as a way of making friends.
One guy is a writer. He relapsed from his 3 years of sobriety (porn addict) after finding me. He's a little on the annoying side with his incessant emailing but I can appreciate the fact he knows how to spell and has some decent connections in the publishing world. He's already tried to get back on the wagon since first contacting me, to which I wished him luck. It was only couple days passed before he started emailing me again. I figured that was a good a time as any to recommended my clip "Power Trip." Here was his response to it.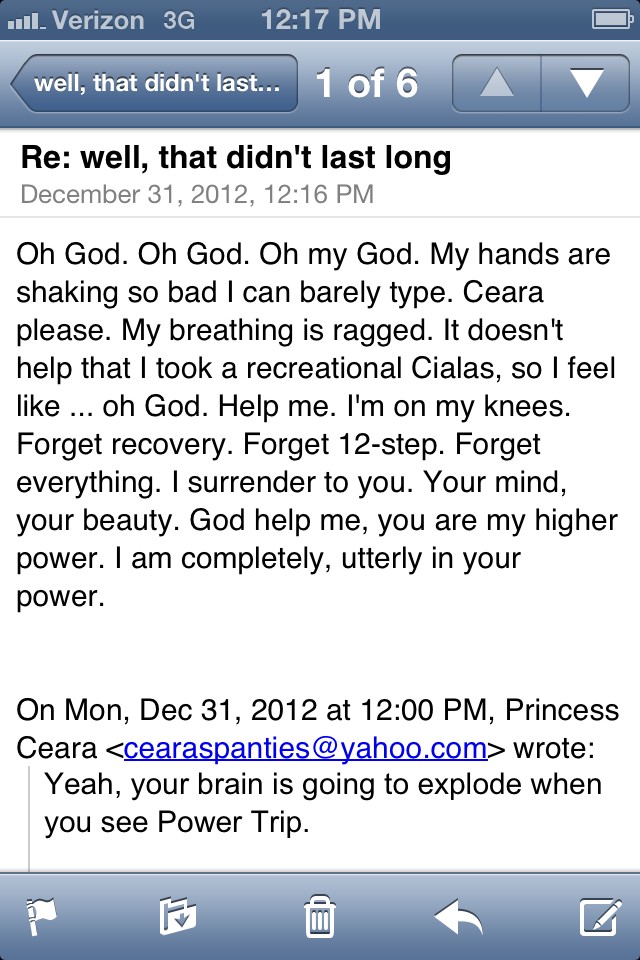 Testimonials don't get much better than that. I instructed an entirely different customer to spend all day watching that clip every hour, for a total of 12 hours, no matter where he was (he had to keep a copy on his mobile phone.) Strange, I haven't heard from him since. I wonder if he started to smell toast near the end.
Another guy emailed me proposing a long term anal training session with photographic updates, weekly tributes and penalties. I love a sub with a straight forward proposal. Makes my life easier when I'm not expected to read anyones mind (although I'm pretty good at that too.) After sending me an initial tribute and having him purchase the anal kit, he inquired about my interest in new atheism and shared some of his thoughts. Its a branch of philosophy and skepticism that I've been really into lately so although it was brief discussion I found it rather engaging. It's so rare that I like a sub on a personal level like that. I think tearing up his anus will have added sentiment.
One thing I should mention as the planet completes yet another inevitable revolution around our nearest star: 2012 was a truly great year for me. I traveled quite a bit; including Europe for the first time for a fabulous albeit stressful 3 weeks, I made far more money then I ever have in past years despite taking time off whenever I pleased, and since graduating college I had the freedom and means to take classes and choose teachers that specifically interest me (mostly in photography and philosophy.) All in all, I lived my life pretty much exactly as I wanted to.
I'm finding my job as a professional bitch has become increasingly gratifying. I really have nothing to complain about. All phony arrogance and sense of entitlement aside; I feel incredibly lucky and somewhat undeserving of the life I have. So much so that I often find myself censoring my good fortune around friends and family. No one makes the kind of money I do. No one has the freedom that I do. These are rough times and it seems everyone is suffering in one way or another to some degree. Sure, I work hard at what I do, but a lot of it is luck; luck that I'm white, luck that I live in a 1st world country, luck that I was born in an age of reproductive freedom, luck that I fell into this niche, luck that I'm beautiful. Life is about making the most of the cards that were dealt with. It would be nothing short of obvious to recognize that I was handed a pretty nice set.