Forgive me for neglecting you, oh sweetest of blogs.
It's especially sad because I really do have a lot worth mentioning. I may just go ahead and start with the latest and go backwards from there. That two week long trip to LA warrants multiple posts. Let's just say for now it's good to be home.
Last week I was approached on skype by a sub (we'll call him "Dylan.") that I hadn't talk to in quite sometime. Back when I was just a baby findom, Monique and I got him drunk and tag teamed his credit card. He was hit or miss. When he spent he spent big, but occasionally backed out and canceled orders. Its moments like that that have all but completely ruined the notion of a good ole fashion wallet rape. I don't bother with guys who want to send me their cc#. It's too easy to cum, regret, and then claim fraud. These days I always, always, always insist subs put on their big boy pants and send me a payment up front by themselves if they wanna play pretend financial exploitation. More often that not that doesn't happen. I wonder why…
Fortunately, Dylan put out: $300 for cam to discuss the idea of me taking over his Saks account with another Domme, particularly Bratty Nikki. Like the jaded femdom entertainment service provider that I am, I assumed nothing he said was sincere, but when along with it anyway. Nikki was logged on too so I made sure he paid her upfront and then we joined in a group chat. Dylan made two Saks accounts with two different credit cards and handed over the login info which we promptly locked him out of and began shopping. All the while Nikki and I gossiped privately about our history with him and whether or not we thought he was legit this time.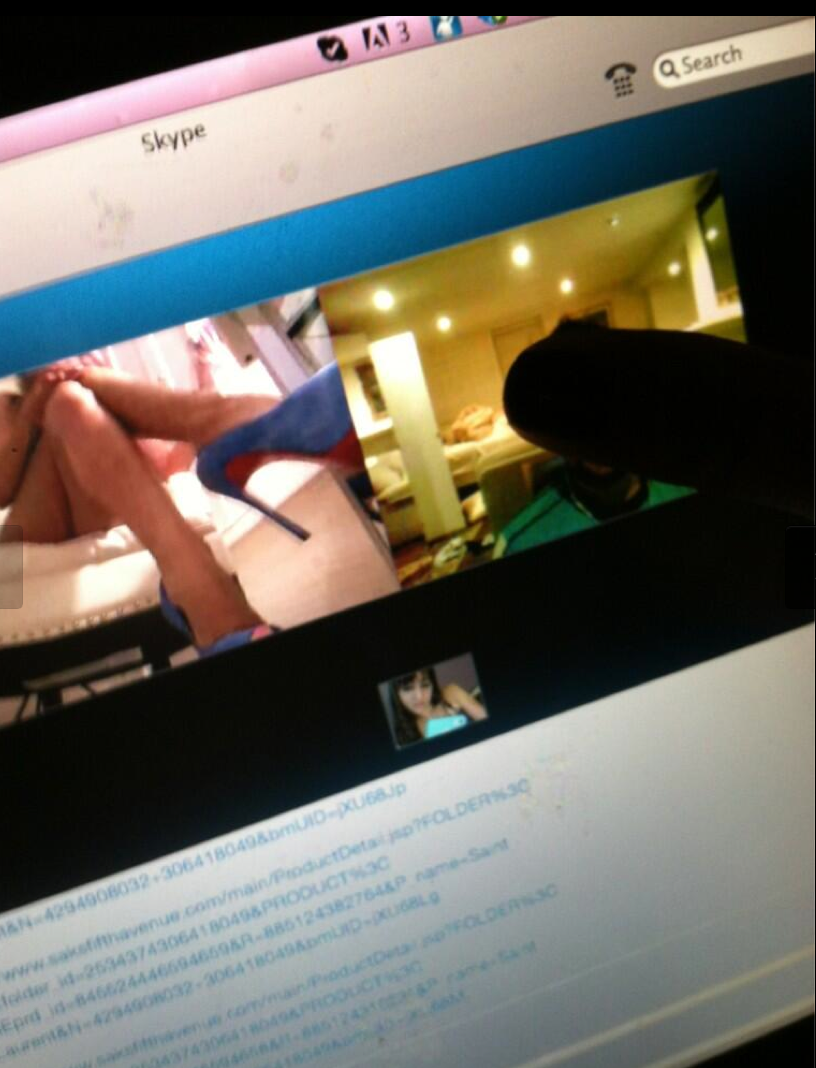 Now, I love designer clothes and accessories as much as the next greedy bitch, but Im also rather practical and can never justify spending my own money on it (I'd much rather have a house and an obscenely large savings account then a collection of Prada handbags) Since online shopping via honest wallet raping is a rarity these days, I don't often indulge in this sort of thing. So given this opportunity, I slid on the biggest electronic strap on I had and immediately began penetrating his financial hole vigorously sans lube: Gucci, Burberry, Christian Louboutin, Alexander McQueen, Gold & Diamonds. These are the things girlie wet dreams are made out of.
Nikki and I teased Dylan about relinquishing so much control as he sat there looking like he just took 5 hits of ecstasy. He wanted to make sure he was
"forced" to stick with his purchases, so he gave me his mom's phone number. I called and confirmed it on speaker phone by asking her for Dylan's personal number. Meanwhile Nikki recorded him saying his full name, what he was doing and that he loved it. We hid no purchase from him and he didn't protest once. 2 hours and $10,000 later, his credit cards were maxed out. We were done with him.
Nikki being the pro that she is, got express shipping, so her stuff arrived much sooner than mine. I just got the first half of my haul today, expecting the rest tomorrow.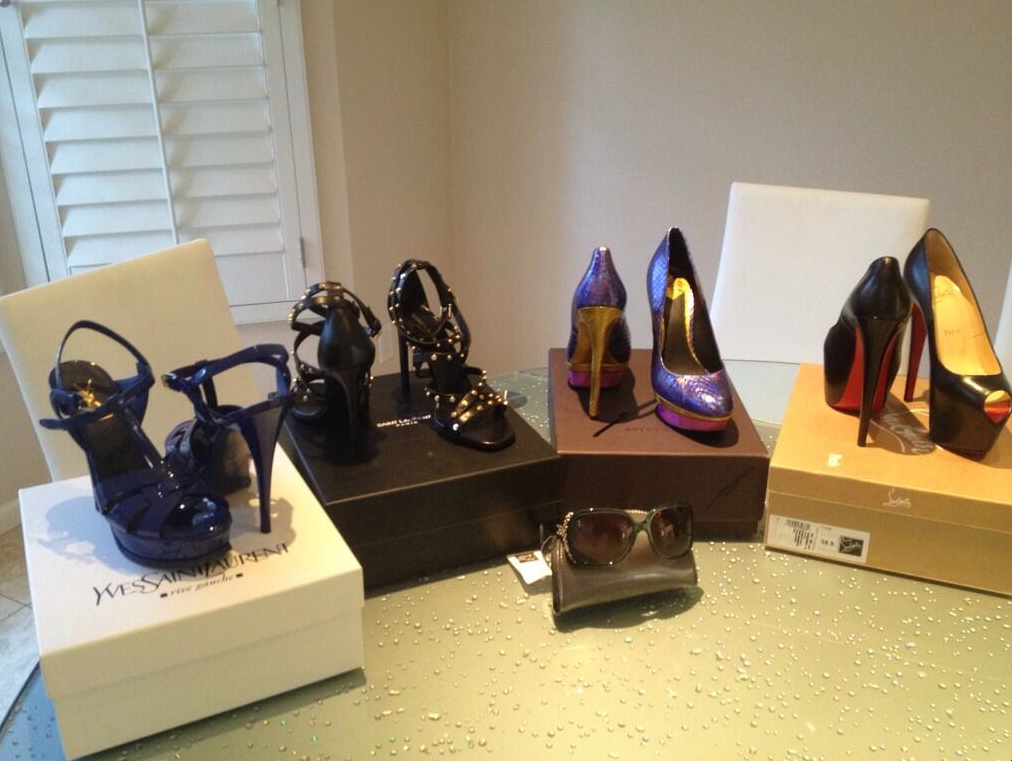 $5000 worth of new shoes and sunglasses for Nikki.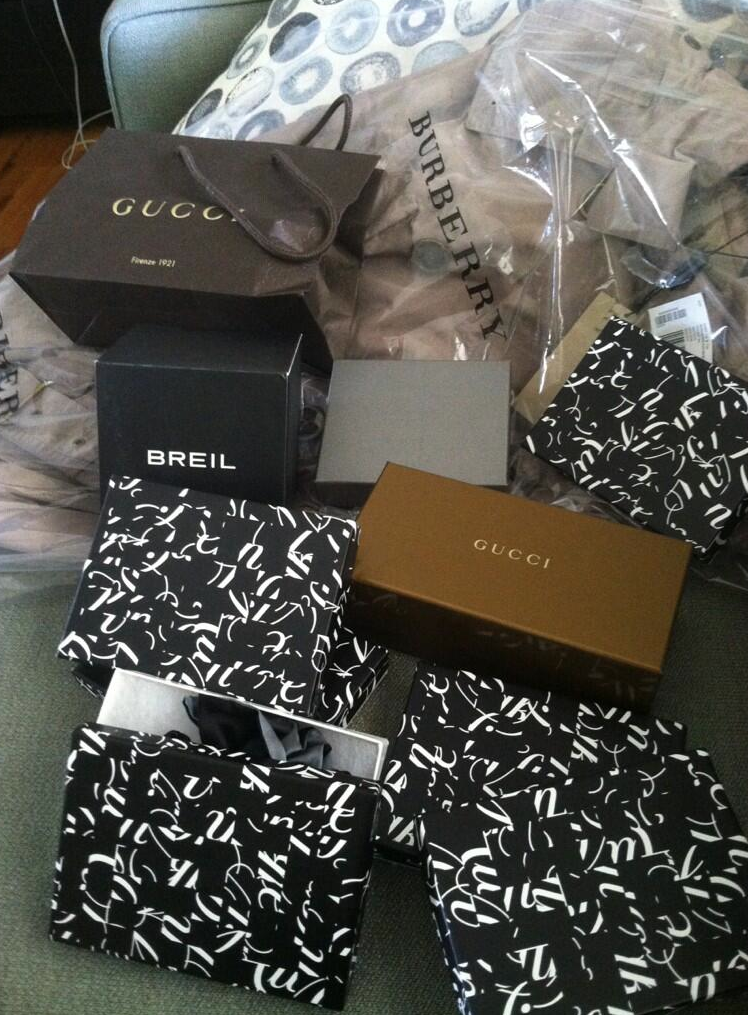 Over $1500 worth of jewelry, $300 sun glasses, $700 trench coat + more to come. I can't even be bothered to arrange my shit all nicely like Nikki. Whatever. Eat me.
I must admit this was a high I haven't felt in sometime. I forgot how fucking fantastic it feels to shop for so much frivolous shit I wouldn't otherwise buy some else's dime. It's like 20 christmases just exploded all over my face. I am elated.
For those of you wondering, Dylan has canceled his credit cards, gone into hiding and I don't expect to hear from him for at least another year. I pretty much expect to forget his existence within the next couple days.