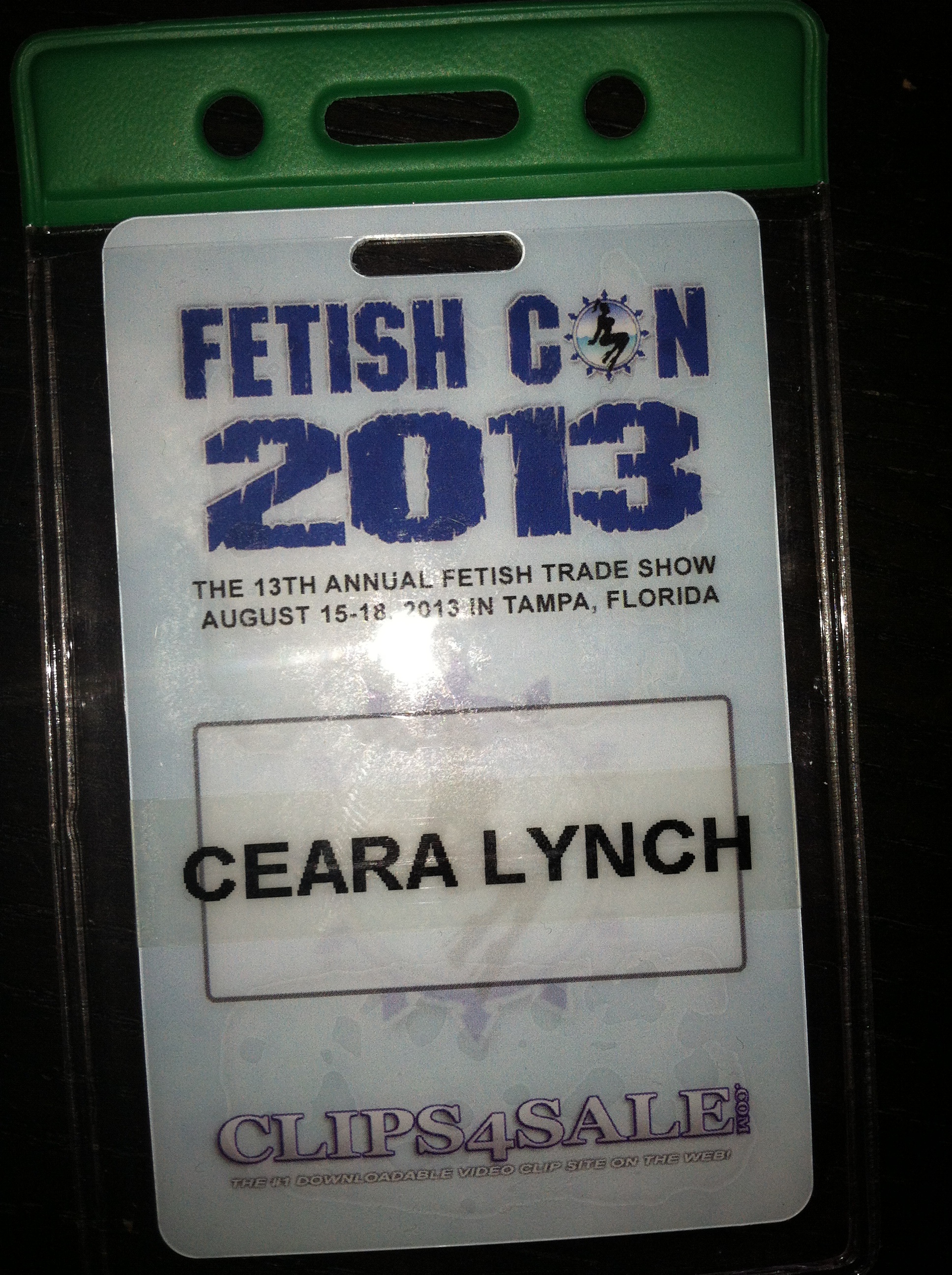 Last week I returned from Tampa's Fetishcon. What a great week. As much as I hate leaving Portland's most perfect and limited weather to fly across the country to be in the Florida's most humid and miserable; it was more than worth it. As Mistress T put it, "It's like visiting our weird home planet."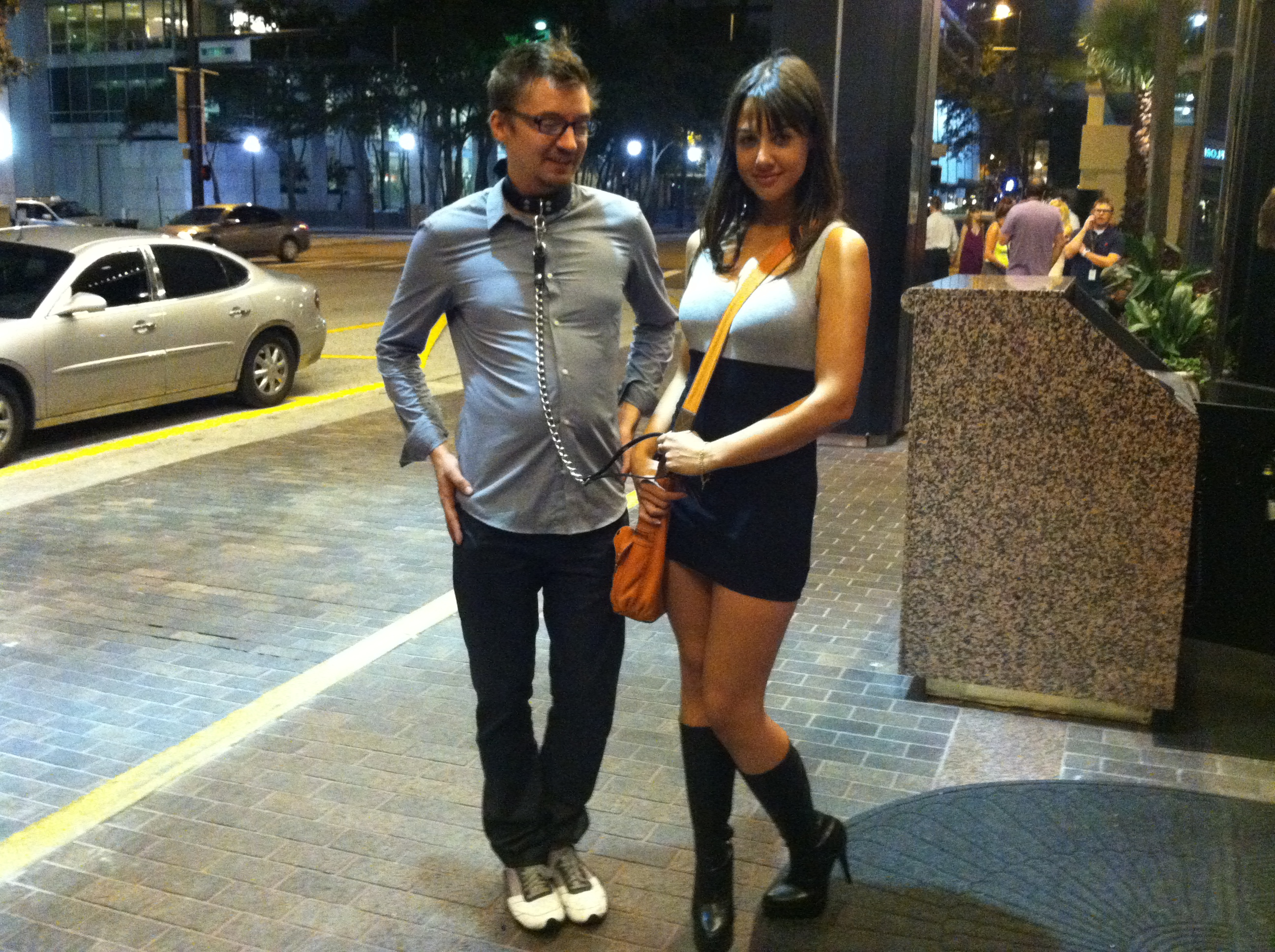 Fetishcon is located at the Hilton, which had just recently been remodeled. Mistress T and I split the largest suite we could book and stuck Nate-bitch on the couch who was at our beck and call all weekend. I swear, this little shit has it made. As if it weren't enough that I use him to worship the feet of pretty much every Team Tease brat that graces my camera AND come to dinner with me on my leash, the rest of the Dommes of fetishcon were eager to use him on and off camera as well.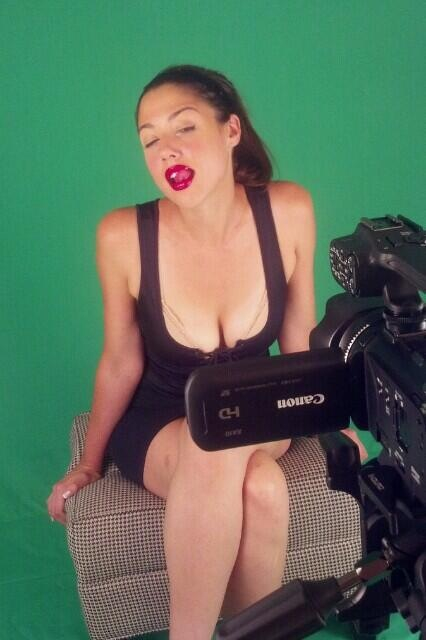 I want to lick your brain. [Photo courtesy of @dominasnow]
Besides Nate and T, most of my time was spent with Alexandra Snow and Damiano Severo. I fucking love those two more than I care to admit through my convincingly hardcore exterior. Snow, equipped with her green screen, shot a couple of my first real hypnosis clips .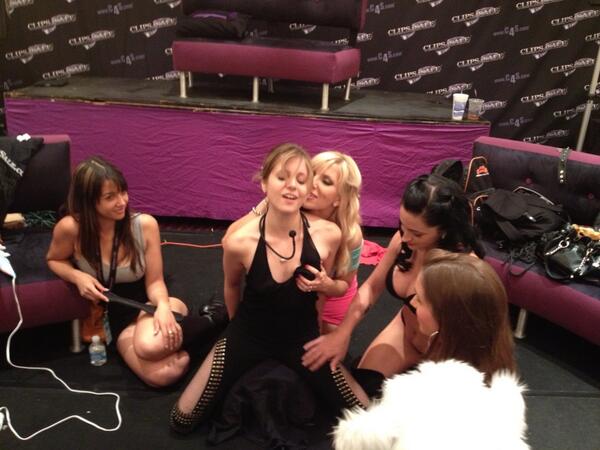 Missy Rhodes riding the Sybian. Who needs boys? [Photo courtesy of @ashleyfires]
Throughout the daytime when I wasn't shooting or stuffing my face with bad hotel food, I made appearances at the clips4sale booth. I love it there. Ever since they started letting a gaggle of clip bitches take it over it's turned into some kind of wonderful and perverted slumber party. When I stopped by Ashley Fires were hooking girls up to microphones and having them ride a Sybian for some "forced" public orgasms.
[wpvideo uJyz1omq]
[Find video here if it does not appear]
A little German balloon fetishist visited the booth while I was there. I saw him earlier in the year in Vegas for AEE when he asked me to blow up a balloon. Ever since he's been emailing me about shooting with him at fetishcon for $100/hr. Fair rate in this industry, but not worth your time if you're me. As you can see, he asked me to blow up an unlubricated condom this time and then begged like a little puppy for me to find time to shoot with him. Still had to turn him down. Turns out he didn't even have a website or a clips store, just looking for videos for his  personal collection. How sweet and gross all at once.
[wpvideo I2IUvF1p]
[Find video here if it does not appear]
Fetishcon sponsors a couple big, offsite club parties. I'm notorious for talking everyone out of going. I hate overly crowded spaces, overpriced admission, loud music, and people I don't know, can't see or hear. Why bother when there's a perfectly good bar and pool area at the hotel which most everyone congregates to anyway? That's where you'd find me most nights. This year I was targeted by a charming swinger couple that were about my parents age. Its probably safe to say I was about 3 drinks away from being eaten alive by them. At one point as I stumbling to the bathroom, I was approached by a guy with an empty cup introducing himself as a toilet. "SAY NO MORE!" I slurred as I snagged the cup from his hand, "How much money do you have?" My god I must have been in a good (i.e. drunk) mood because this guy ended up spending the best $20 of his waste consuming life.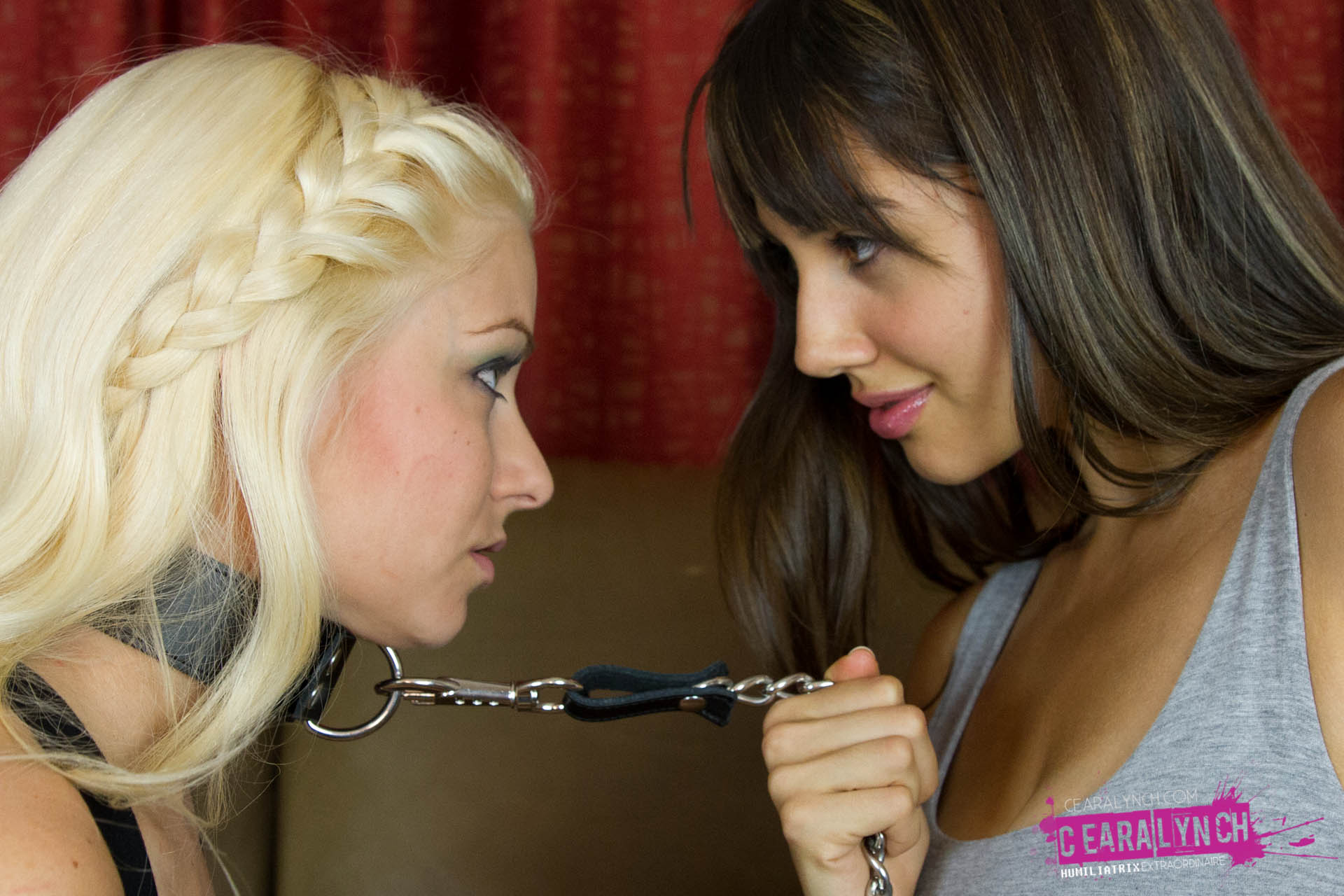 If there's one great perk about going to fetishcon, it's that there's a wide selection of gorgeous women willing to sub for me. I was fortune enough to sit on Danielle Trixie's beautiful face, stick my feet in Paris Kennedy's sexy mouth, and spit all over Dakota Charms. My favorite femsub clip however would have to be my very last shoot with Cheyenne Jewel and Domina Snow.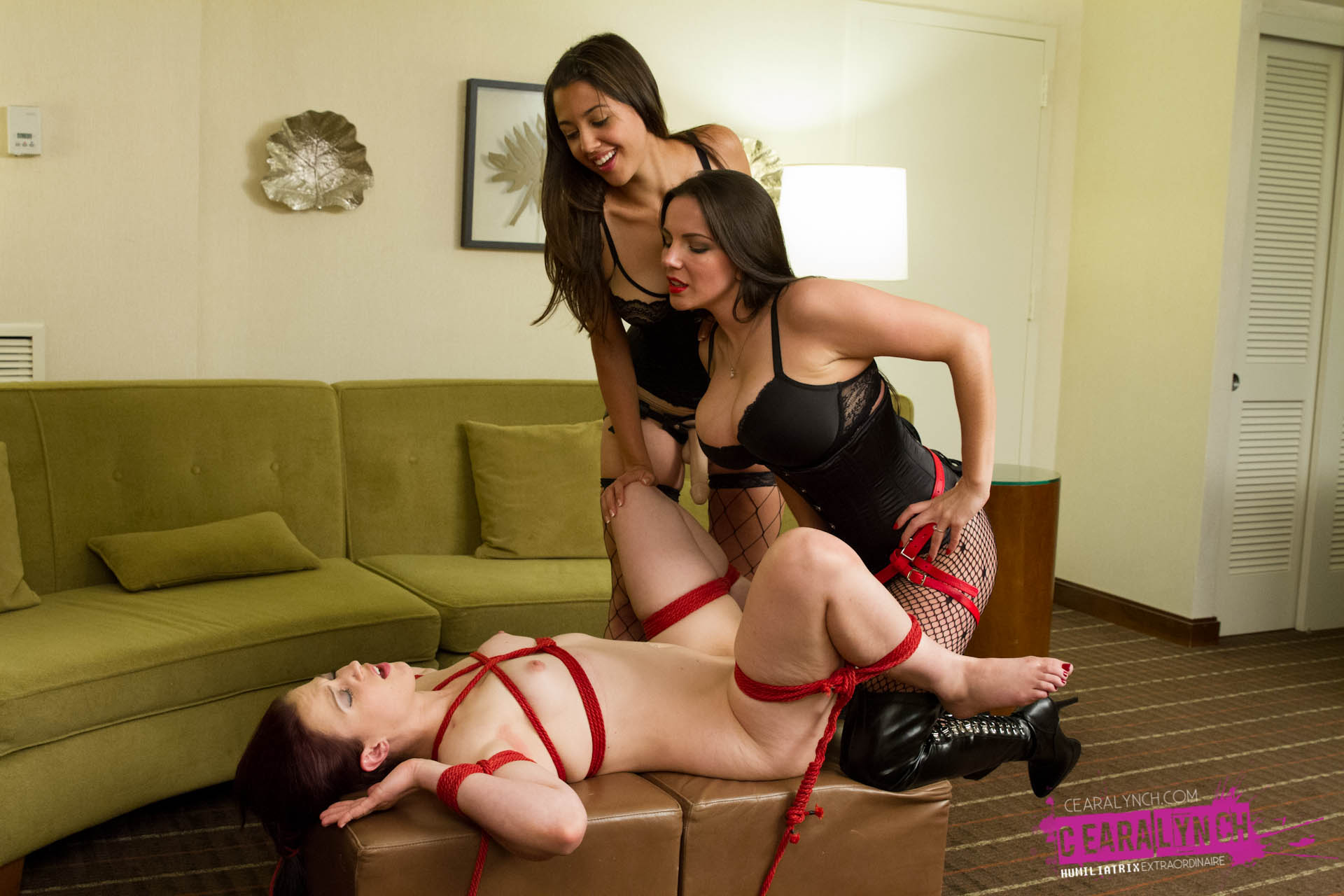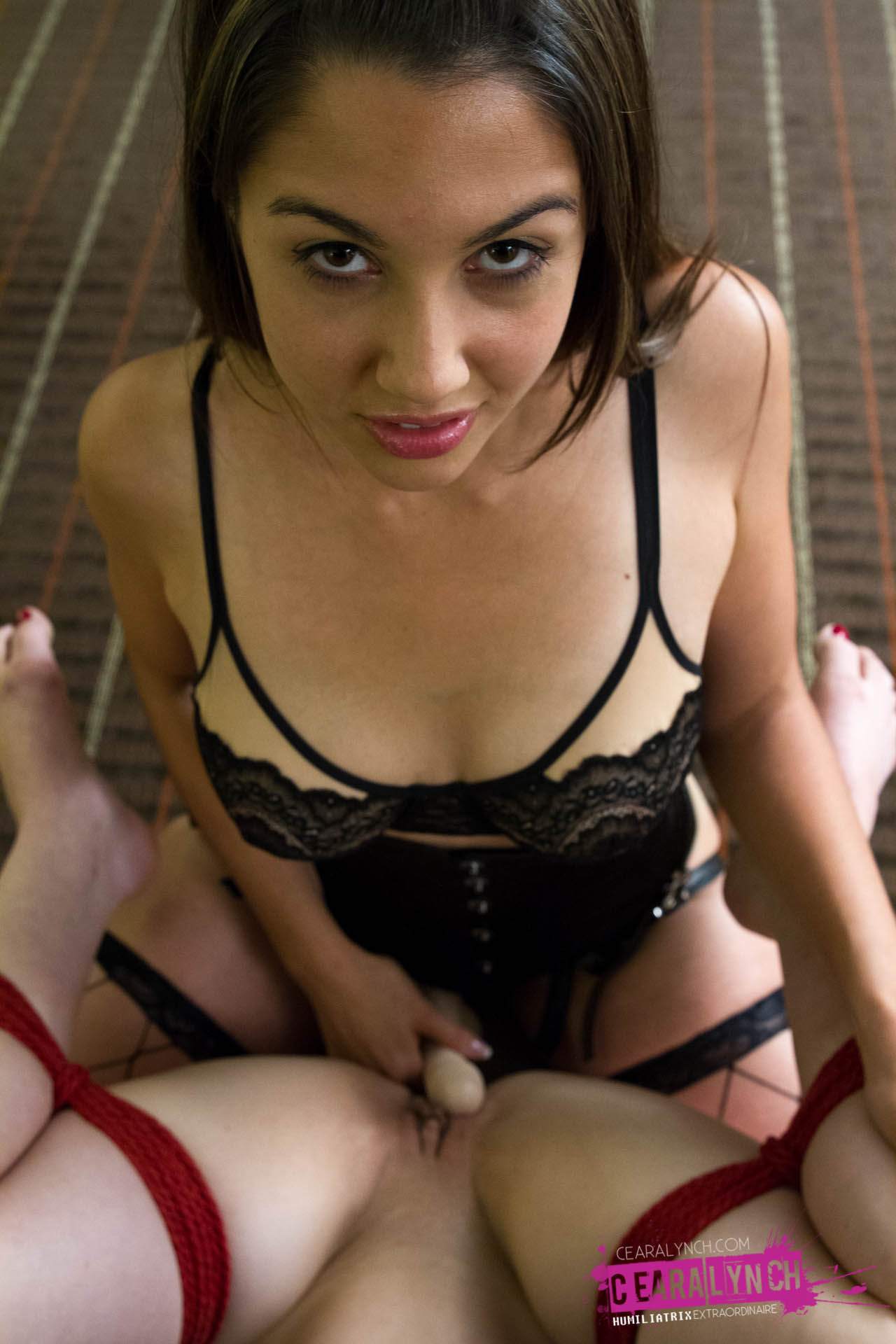 No your eyes don't deceive you, that's a rubber cock dangling between my legs. & that beautiful robe bondage skillfully tied by Miss Snow herself. I decided to take my depravity to new heights by shooting a double strap on scene with this this lovely little toy (look out for it in Snow's studio in the near future.) along with a "forced" orgasm scene where we pretend Cheyenne is some prudish Mormon bitch that came to our door only to get taught a valuable lesson. Man, why can't all of life's lesson involve orgasms…?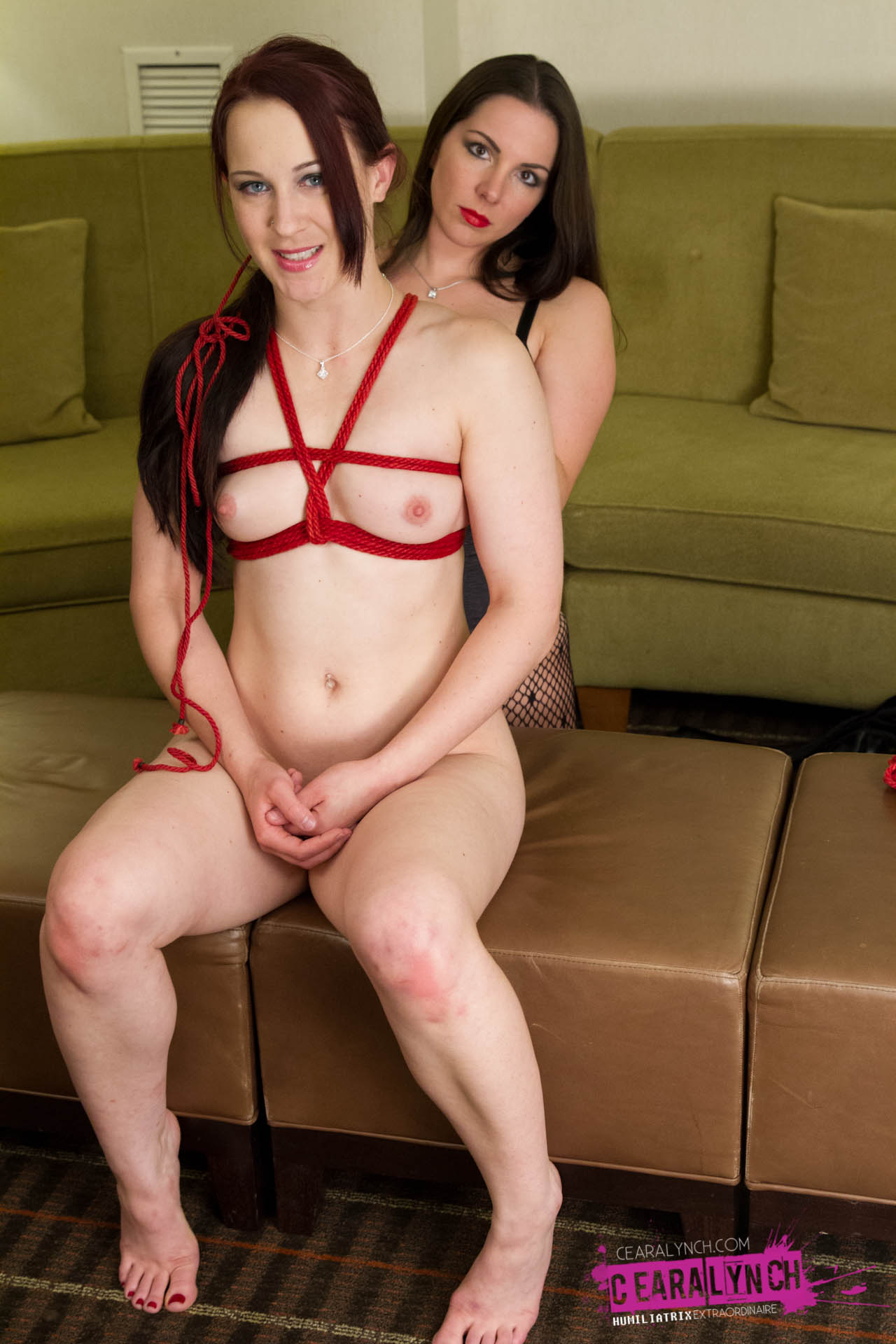 I fucking love Cheyenne. When asked what her hard limits were, all she said was, "cattle prods."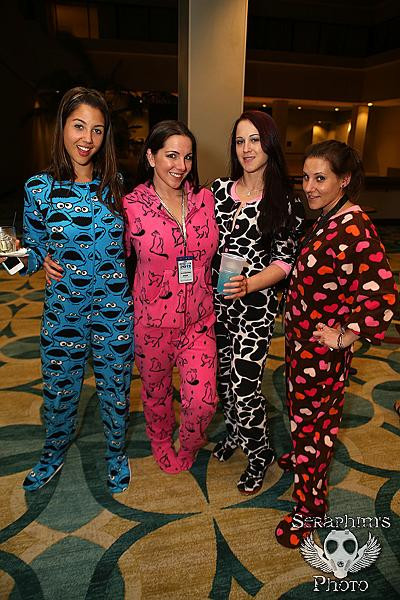 Me, Snow, Cheyenne & Meggerz [Photo courtesy of Seraphim's Photo]
On the last night after all our shooting was done, we traded the latex, lingerie, corset, heels and waist cinchers for our footie pajamas. Making a brief appearance at the wrap up party, I don't think we could have gotten more attention if we were dressed in fetish gear. Numerous people took pictures with us and expressed their burning envy. Can't say that I blame them. We look fucking incredible.
And with that, I leave you with this blurry ass picture of just a fraction of the people I was stoked to spend time last week; Amadahy, (me), Meggerz, Alexandra Snow, Sarah Blake, Justine Joli, Larkin Love, Mistress T, and Evelyn Milano.
Honorary mention to: Shauna Ryanne, Sarah Diavola, Lilith, Jasmine Mendez, Tierra, Lelu Love, Princess Anna, Hannah Perez, Astro Kittie, Corey Chase, Rachel Steele, and the so-called "men" behind american mean girls, brat princess 2, bratty foot girls, and humiliation POV.
Next stop… Burning man!