For the past couple months, long time addict Yonatan (aka pindick) has been struggling to create a support group in effort to combat the bad habit that is me. It's delighted me to no end to hear him talk about it.

At first, most of my fans were just laughing at him, but I seemed to have found him some support with one of my newer subs, "fuckface." I wrote about my first interaction with fuckface here when I had him stick a vuvuzela up his dirty ass and then suck it clean. He's been a regular ever since, tirelessly climbing the ladder of degradation; licking cum off a toilet seat, off my dirty sneakers, sleeping in his own piss soaked shame… you know, the usual.
A couple weeks ago fuckface expressed some feelings of malaise. He hates being "addicted" to me and wants out. Of course those moments of regret were sandwiched in between more niteflirt calls and cam sessions. I decided to introduce him to Yonatan on twitter and the two of them have been nothing short of entertaining to me.

To Yonatan's credit, he has been doing a pretty good job lately of refraining from buying cam lately. He's obviously still around though, lurking in the shadows. No doubt spending night after night staring at my screen name on Skype, quietly begging me to himself that I sign off. Last night when he gave me one of his many "formal goodbyes" and I couldn't help but notice he changed his avatar to a screen shot of my profile signed on. Too cute.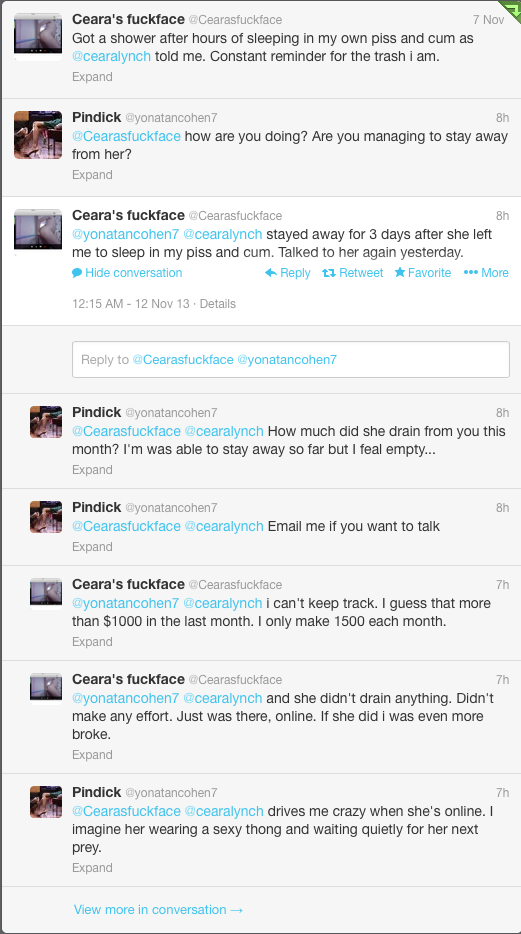 "Didn't make any effort" is right. Don't you just love that? All I do is be available and its all they can do to keep from destroying themselves.
These two aren't even far from the norm. Here's an email I recently received from another struggling addict:

Naturally after reading this I invited him to find me on Skype to buy cam. Our conversation went as followed: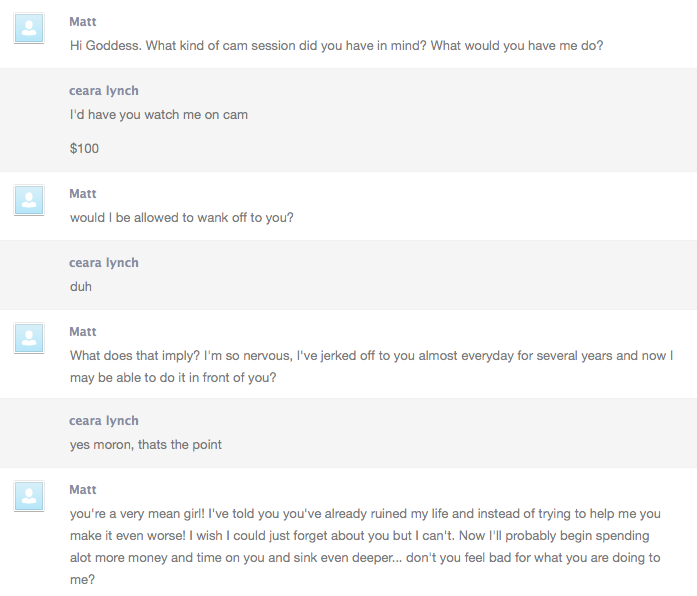 Now, believe it or not, deep down in my cold black heart there is some resemblance of a conscience. Its obvious to me that there is a strong need for support and camaraderie amongst my most addicted of followers. So as a gesture of good nature, I'd like to host the first ever LA meeting right here on my blog.
I welcome anyone and everyone who wishes to tell their addiction story to comment here.
You can do so anonymously, just make up a name, but start your confession with:
"Hello, my name is _____, and I'm a Lynchaholic."
From there, you are welcome to tell your story with others who are just like you. No need to censor yourself, this is a safe space. Remember: you're only as sick as your secrets.